Under the direction of Jamie Carey, the Great Lakes Chorus is creating exciting A Cappella music in West Michigan.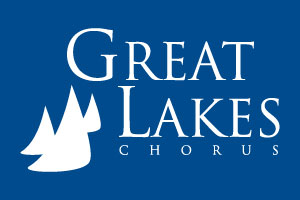 About the Great Lakes Chorus
The Great Lakes Chorus was formed in 1938, and in 1947 was chartered as the official Grand Rapids chapter of what was then known as the Society for the Preservation and Encouragement of Barbershop Quartet Singing in America (now the Barbershop Harmony Society). The chorus offers men the opportunity to learn barbershop harmony in a large group, helps them develop their skills, and encourages them to sing in quartets.
The Great Lakes Chorus is grant award recipient from the State of Michigan Council for Arts and Cultural Affairs (MCACA) with federal support through the National Endowment for the Arts.
The chorus has been crowned District Champions many times since 1953, most recently in 2023, and has represented the Pioneer District 20 times at the International Contest, starting in 1953 when they won S.P.E.B.S.Q.S.A.'s very first international chorus contest in Detroit.
Pioneer District Champions: 1953,'55,'77,'80,'83,'86,'91,'94,'97, 2000,'10,'14-'17,'23
Pioneer District International representative: 1953,'56,'58,'81,'83,'86,'88-'90,'96-'98, 2000-'02,'12,'15-'19
In addition to barbershop style music, the Great Lakes Chorus repertoire includes gospel, patriotic, doo-wop, seasonal, and swing.
Please check our upcoming events, purchase tickets to our next show, or find out how to sing with us at one of our weekly rehearsals. Thank you for visiting us and we look forward to seeing you at a show or rehearsal!
Click this text to give a free will donation – Thank you
Friends of the Great Lakes Chorus
Barbershop Harmony Society
Harmony Foundation
Grand Rapids Sweet Adelines Chorus
Pioneer District
Pioneer District – contests, conventions, events, history, contacts
Battle Creek Chapter – Cereal City Chorus
Gratiot County Chapter – Midstatesmen Chorus
Grosse Pointe Chapter – Lakeshore Chorus
Hillsdale Chapter – Town & Country Chorus
Huron Valley Chapter – Huron Valley Harmonizers Chorus
Kalamazoo Chapter – Mall City Harmonizers
Lansing Chapter – Capitol City Chordsmen Chorus
Livingston County Chapter – Livingston Lamplighters
Marquette Chapter – da Upper Yoopers' Barbershop Chorus
Michiana Metro Chapter – Lighthouse Chorus
Motor City Metro Chapter – City Lights Chorus
Mt. Pleasant Chapter – MountainTown Singers
Pontiac-Waterford Chapter – Big Chief Chorus
Rochester Chapter – Guardians of Harmony Chorus
Sault Ste Marie, Ontario – Northland Barbershop Chorus
Traverse City Chapter – Cherry Capital Chorus
Wayne Chapter – HarmonyTown Chorus
Windsor Chapter – Sun Parlour Chorus